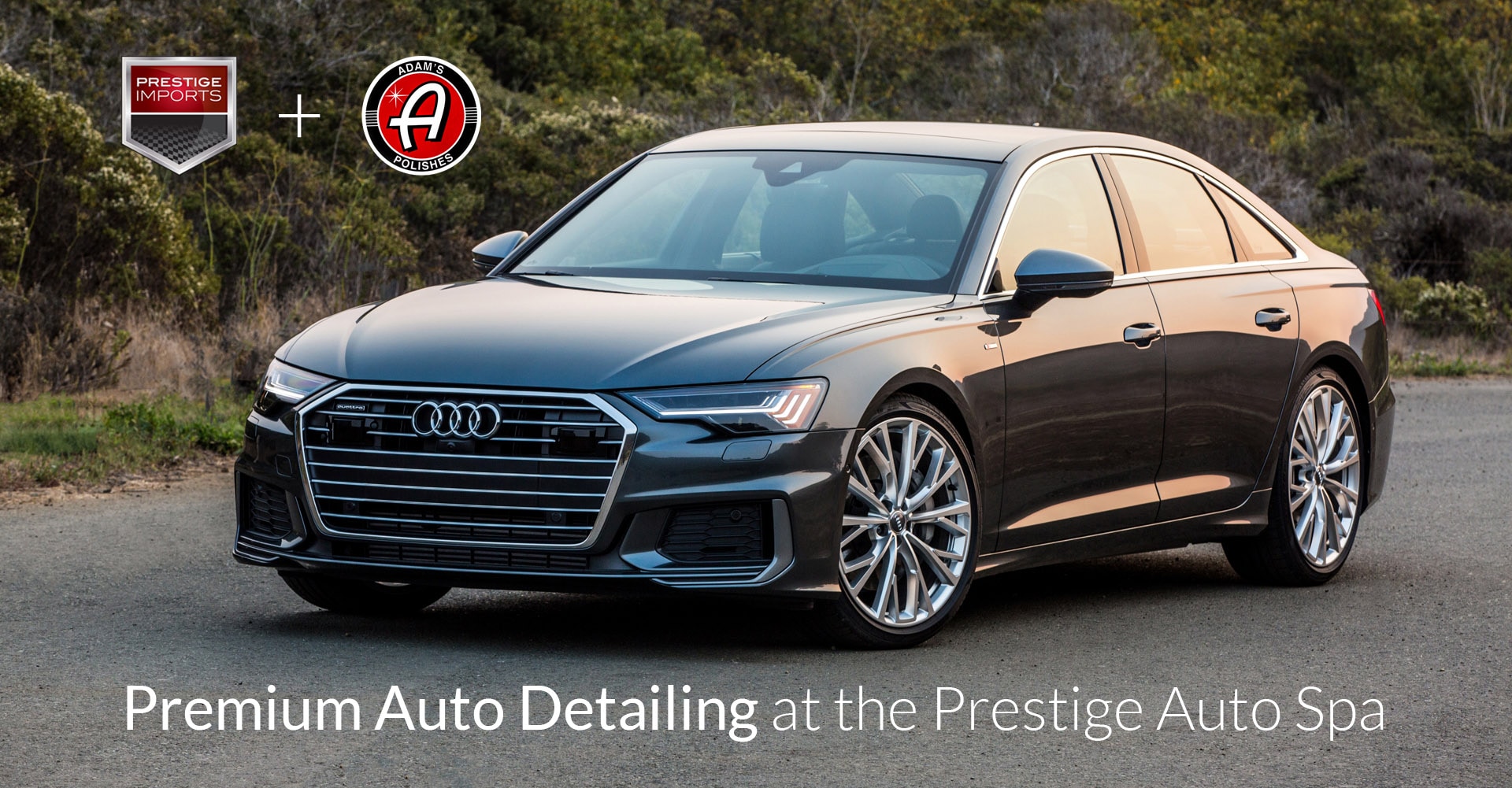 The Prestige Auto Spa brings you Denver automotive detailing from the dealership you trust
Prestige Imports is excited to announce the grand opening of the Prestige Auto Spa. We have staffed and trained some of the finest detailers in the Denver metro area to give your car the spa day that it truly deserves.
Kids wreaking a messy havoc in the back seat? Smells like the family dog is still in the car 3 days later? Has your beautiful Audi simply lost that "New Car" look? Restore and replenish that showroom shine at the Prestige Auto Spa.
A full suite of Denver automotive detailing services are available for all makes and models, by appointment, at the Prestige Auto Spa.
We are proud to partner with
Adam's Polishes
for a full compliment of products that truly set a Prestige detail apart from other detail services you are likely to find in the Denver area. Adam's Polishes is a local company that manufacturers all of their products right here in Colorado. Their products are not mass-produced and each is carefully formulated with special blends of high-quality polymers, acrylics, and waxes. They are guaranteed to outshine and outlast any product you've used on your vehicle before.
Please review the menu below and let us know what kind of spa day your beautiful car deserves. After all, your car is so loyal and good to you every day, shouldn't you treat it to a day at the spa?
Prestige Auto Spa - Pricing Menu
Interior Detail - $199.95
Let us dig into all those nooks and crannies to give your vehicle a factory fresh interior look.
Exterior Detail - $199.95
Say goodbye to road grime and a dull finish and hello to a finely polished vehicle exterior.
Standard Detail - $359.95
Don't go halfway. Treat both the exterior and interior of your luxury vehicle and enjoy a discount at the same time.
Standard Wheel Package - $199.95
Nothing makes a car stand out like a nice set of wheels. Bring back your vehicle's original look with our Standard Wheel Package.
Complete Detail - $549.95
Cover all your bases with a Complete Detail, and drive away in vehicle that is sure to turn heads.
Ceramic Wheel Package - $499.95
Elevate the look of your wheels to a whole new level with Adam's Ceramic Coating.
Ceramic Body Package - $1299.95
This detail is designed to make even a brand new luxury vehicle look even better. The quality of the finish is second to none.
Ceramic Detail - $1799.95
The Whole Ball of Wax! Everything listed above all rolled into one exceptional package.